Changelog for our RS-232 to keyboard software
Click here to see upcoming versions and planned features.
Version 2017.1.3.0:
August 9, 2017
Usability improvement: validation of input fields.
Version 2017.1.2.0:
May 12, 2017
Version 2017.1.1.0:
March 23, 2017
New device profile: Kern RPB (weight only).*
* Plus license required.
Version 2017.1.0.2:
January 27, 2017
Improved support for alphanumeric characters: all printable ASCII characters can be typed using the "Barcode alphanumeric extended" profile.*
Supported keyboard layouts (for alphanumeric characters): US (QUERTY), United States-International (QUERTY), French (AZERTY), German (QUERTY).
Support for new licensing models added.
Bug fixed: Default terminator for Adam CBK/GBK/GFK set to "10<LF>".
* Plus license required.
Version 2016.2.3.4:
December 23, 2016
Colon character (":") can now be typed (using "barcode alphanumeric extended" device profile and US or AZERTY keyboard layout).*
Mitutoyo LSM-6200 device profile added.*
"Wedderburn" device profile updated.*

Bug fixed: Character codes >127 shown as negative numbers in event log.

Bug fixed: Space missing between "unsent data:" message and list of characters.
* Plus license required.
Version 2016.2.3.1:
November 17, 2016
* Plus license required.
Version 2016.2.2.0:
October 20, 2016
Number and text devices can be distinguished in the device list.
Functions which cannot be applied to text devices are disabled (greyed out).
Version 2016.2.1.0:
October 14, 2016
New devices:

New character "*" available in "start with"-function.*
Plus tab renamed to license tab.
Fixed bug: Minus sign not typed in Microsoft Excel when Num Lock is off.
* Plus license required.
Version 2016.2.0.1:
October 3, 2016
Fixed bug: Error message shown on program start when no license key has been applied.
Version 2016.2.0.0:
September 30, 2016
Custom regular expressions for matching and capturing data.*
Function to remove unwanted characters from captured data.*
Improved alphanumeric support with new "Barcode alphanumeric extended" device profile.*
Fixed bug: Character "Z" not typed on AZERTY keyboards.
Fixed bug: Auto port detection not stopped when closing window with X button.
* These features require a Plus license.
Version 1.62:
August 24, 2016
* Requires a Plus license.
Version 1.61:
July 21, 2016
New supported device: Mitutoyo 264-007 RS232 Input Tool (for Mitutoyo measurement instruments like digital calipers).*
* Requires a Plus license.
Version 1.60:
July 15, 2016
* Requires a Plus license.
Version 1.55:
June 27, 2016
New setting: "Abort auto-start if previously used port not available".* 232key now remembers which port was last used to connect to your serial device. If you have selected the auto-start function and the last used port is no longer available, 232key will now show an error message if the "abort auto-start" box is checked. If left unchecked, 232key will auto-connect to the first available port (this was the default behavior prior to this release).
* This feature requires a Plus license.
Version 1.52:
June 15, 2016
Function keys (F1 to F12) can now be sent ahead of data received from device ("start with" function).*
Port to be used by 232key can be passed as a parameter (argument), e.g. "232key.exe COM3". This prevents 232key from trying to discover and list all ports available on the system.
* This feature requires a Plus license.
Version 1.50:
May 13, 2016
New settings tab allows you to better customize 232key's startup behavior.*
Device name is recorded in event log to simplify troubleshooting.
Improved support for Kern MPS scales (older models using different format than current ones).
New device profile: Adam Equipment AZextra scales (weight in kg only).
Nicer program icons.
* This feature requires a Plus license.
Version 1.40:
March 24, 2016
Button to refresh list of ports.
Auto-minimize to notification area (when auto-start is selected).*
* This feature requires a Plus license.
Version 1.30
March 9, 2016
Color-coded event log: highlights the characters which were extracted by 232key from the data sent by the connected device (this can greatly simplify troubleshooting).
Automatic update check: checks for updates (without transferring any data from your PC) and shows a notification in the status bar if a new version is available. Update check is skipped if "auto start" is activated (Plus version only).
Status bar: URLs are now clickable.
German version: missing translations added (German version is available from www.waagen.lu/232key).
New device profile: A&D EM scales (tested).
New device profile: Kern KFB indicator (used by Kern IFB series scales and others; tested).
New device profile: Tanita TL-280/TL-290 scales.
Version 1.21
January 16, 2016
Fixed bug: program terminates without error message when no COM port found on system.
Fixed bug: splash screen not shown on program start.
Version 1.20
December 11, 2015.
User-friendly port names: Instead of simple numbered COM ports (e.g. "COM4"), 232key now also shows the device name and manufacturer (if available):

This is particularly useful if you're using a converter (RS-232 to USB).
Improved automatic port detection (works with devices which have some sort of handshaking functionality, e.g. all scales and balances made by A&D)
Improved German translation (German version can be found at http://www.waagen.lu/232key).
All of these improvements are available in the free version of 232key.
Version 1.10
November 30, 2015.
* This feature requires a Plus license.
Version 1.09
October 5, 2015
New device profile "Barcode alphanumeric" provides basic support for alphanumeric barcodes (characters A-Z and digits 0-9).
Version 1.08
August 7, 2015
New device profiles: Adam Equipment CBK scale, Adam Equipment Highland balance, Sartorius.
Improved COM port detection (should fix bug 232-27).
Mathematical operations: multiplication and division (useful for unit conversions).*
Improved rounding function (does not pad values with trailing zeros anymore).*
Fixed minor bug 232-28.
* This feature requires a paid license.
Version 1.07
July 21, 2015
"Start with": a key that can be sent before 232key types the measurement value* (many thanks to Jacques at luxcaddy.lu for the suggestion).
Minor GUI improvements.
* This feature requires a paid license.
Version 1.06
July 6, 2015
Device profiles for Precisa and Mettler Toledo.
More rounding options*.
Internal improvements to ensure data integrity.
Improved automatic port detection.
Fix for bug 232-25.
Format settings: Renamed "terminate with" to "end with".
* This feature requires a paid license.
Version 1.05
June 12, 2015
Expired trial licenses are removed automatically.
232key icon is displayed in title bar.
Program version details (OS, architecture and language) are shown in about tab.
EULA has been rewritten and reformatted.
Version 1.04
May 7, 2015
Support for Adam GBC / GFC counting scales (GC indicator) has been added. These scales transmit data in a multiline format intended for printers. You can now choose whether you want 232key to extract and type the (total) weight or the number of pieces: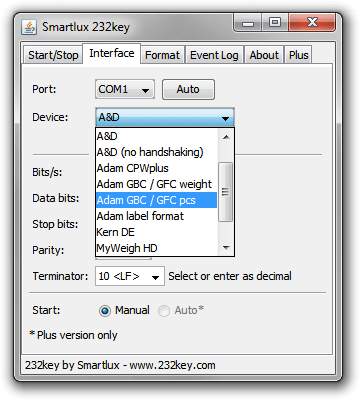 Version 1.03
April 30, 2015
Usability improvements (thanks to customer feedback):
Default button in interface tab renamed to ⇓set defaults⇓ and repositioned.
Tooltips added to many elements.
Version 1.02
April 22, 2015
New feature: 232key window is minimized on program start when "auto-start" is enabled (Plus version only).
Version 1.01
March 16, 2015
This version fixes several minor bugs: 232-18, 232-20 and 232-21.
Version 1.00
March 9, 2015
Development of 232key started just over one year ago on March 1st, 2014. Today, we're happy to announce the release of version 1.00!
We'd like to thank our users for their bug reports, feature requests and encouraging emails.
Of course, the development of 232key does not end today. Please sign up for our newsletter or follow us on twitter to stay current on future updates.
Release candidate 1 (RC1) and free Plus trial license
February 28, 2015
Plus license: Try out all of the 232key Plus features using license key vrYuxl4n1LHIF3GH/m6wZT9SX7E7ChFr!mqlL/bK9FxM= (valid until March 31). You can also purchase a (non-expiring) license through our trusted reseller FastSpring for the special introductory price of 30 US$ or 28 € (including VAT, where applicable).
Plus features: Rounding and a confirmation sound can be enabled in the format tab. Auto-start is available in the interface tab (automatically connects to your device and starts the virtual keyboard wedge when 232key is started).
New "barcode" device: This new (generic) device prevents leading zeros from being suppressed.
Kern DE: Default settings were added for scales using the popular Kern DE indicator.
Improved auto-save: Changed settings are saved as soon as you switch to another tab (or when the program is closed, as before).
Version 0.99
January 7, 2015
Bug 232-17 fixed: Keystroke simulation now works with AZERTY keyboards (please select appropriate "keyboard type" in format tab).
New feature: Warning is displayed if "Caps Lock" is on.
Plus version feature preview: New features available in the upcoming "Plus" version are displayed in the user interface (but cannot be used yet). 232key Plus licenses will be available for purchase in February 2015.
Adam Label format: To use this multi-line format, a paid device license will be required in future versions of 232key. This is now indicated in 232key.
Version 0.98
November 03, 2014
Bug 232-14 fixed: Error message "Error while loading settings" no longer appears when program is first started after installation.
Feature: Error message is now displayed if loading or auto-saving of settings fails (access to registry denied).
Feature: New device "Ohaus SPU, TA, NV" with default settings for Ohaus Scout Pro, Traveller and Navigator has been added.