Free RS-232 to keyboard software (keyboard wedge)
Use 232key to capture data sent from a serial device and automatically enter it into any application as if you had typed it on the keyboard.
Our software captures data sent from a device connected to a serial port* on your PC, optionally converts it and then types it into any program as simulated keystrokes (a.k.a. virtual keyboard wedge). 232key can add an additional key at the end (e.g. the "enter" key to jump to the next row in a spreadsheet). 232key comes with a number of pre-defined profiles for popular devices which makes it very easy to use.
232key was originally developed to transfer the weight from a weighing scale into a spreadsheet application like Excel, but can be used with many other devices as long as they send their data in the ASCII format. Alphanumeric support is currently limited to the letters A-Z and digits 0-9 for the free version (case-sensitive) while the Plus version has extended alphanumeric support.
Examples of devices which may have serial connectivity: Measurement instruments (scales and balances, digital calipers, etc.), microcontrollers, sensors, barcode readers and barcode apps with Bluetooth connectivity.
*Also called RS-232, EIA-232 or COM port. 232key also works with virtual COM ports (RS-232 to USB converter as shown in photo below, Bluetooth Serial Port Profile, serial over Ethernet, etc.).
Perfect for balances and scales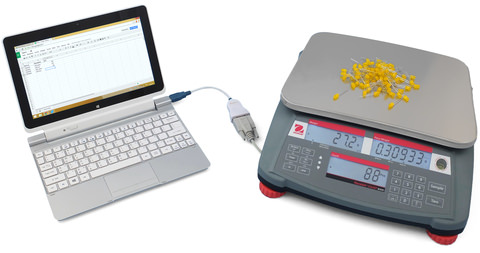 In this application example, we used a counting scale to count the LEDs and pressed the "Print" key on the scale. Running in the background, 232key typed the quantity directly into a Google Docs spreadsheet: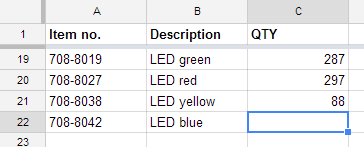 Of course, you can use 232key with any software that accepts keyboard input (not just spreadsheets).
Easy to use with exceptional features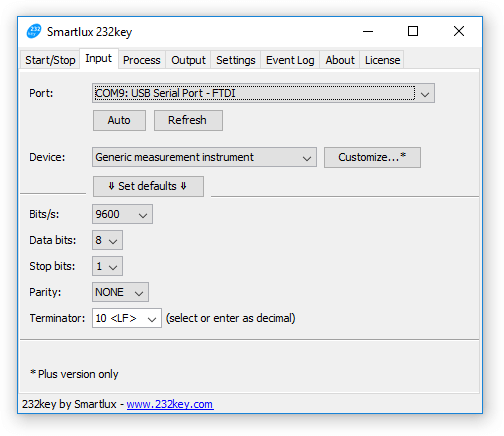 Get started in just 7 steps
Connect your device to your PC.
Choose the correct port and other connection parameters in the interface tab.
Optional: Select conversions in convert tab.
Choose the desired output format in format tab.
Press the start button in start/stop tab.
Switch to the target program (while 232key runs in the background) and place the cursor where you want 232key to type the data.
Press the data transmission key on your device (usually labeled "print"or "data") to transfer data. 232key types the formatted data at the current cursor position.
Steps 1 to 4 have to be completed only once, all settings are saved and loaded automatically. See documentation for further information. Step 5 can be automated in the Plus version (auto-start).
Thanks to A&D's ingenious use of the handshaking lines, 232key can automatically detect the following errors and alert the user:
Scale is either not connected to the selected port or cable has been disconnected.
Scale is powered off or wrong type of cable is being used (null modem instead of straight cable).
These advanced error detection functions are only available when 232key is used with a scale or balance from A&D. See documentation (error messages) for further details.
Limitations
Data sent by your device has to be in ASCII format.
When using a numeric device (e.g. a measurement instrument), 232key ignores all non-numerical data and extracts only one number from each line of data (usually the first one it encounters).
For text devices (e.g. barcode scanners), supported characters are limited to A-Z and digits 0-9 in the free version. The Plus version has extended (but not yet complete) alphanumeric support.
232key cannot send commands to the device (unidirectional communication only).
232key can only connect to one device at a time. If you want to connect to a second device, please have a look at 232key MU.
232key is not a data logger. It is meant to run in the background while the data is written (typed) into another program.
Comments or questions?
Don't hesitate to ask a question on the FAQ page or to contact us.
Download 232key
Click here to download 232key 2016.2 for Windows.
By downloading, you agree to our EULA.
232key Plus license
The basic functionality of 232key is available for free. If you want to use the Plus features, please click here to buy a license for $29 or 27€ (including VAT, where applicable). Your license key and invoice will be generated immediately as soon as your payment is completed.


Search this website