232key Plus
Download Alternative 30 - Order Now
Additional features available with in 232key Plus
Input tab
Process tab
Output tab
Settings tab
Buying and applying your license
Plus trial license
Please contact us if you need a trial license key to evaluate the features in 232key Plus. We also regularly publish trial license keys in our newsletter.
Purchasing your license online
232key Plus is currently available for US$ 30 (plus VAT or sales tax, where applicable; volume pricing available) for a perpetual license with 2 years of free updates. This means that your license will never expire and that all future versions of 232key Plus will be available to you at no additional cost for two years.

Please click here to buy your license through FastSpring, our trusted reseller:

Your license key and invoice will be generated immediately as soon as your payment is completed.
Entering your license key in 232key
Once you've placed your order, you'll immediately receive an email from FastSpring containing your license key:
Please copy (Ctrl+C) this key from the email, go to the Plus or License tab in 232key, click in the field and paste (Ctrl+V) the license key there:

You cannot right-click in the field to paste the key, please use the keyboard shortcut Ctrl+V.
Then, click on the OK button. You'll see a confirmation that your license has been added and it will also appear in the list of applied licenses: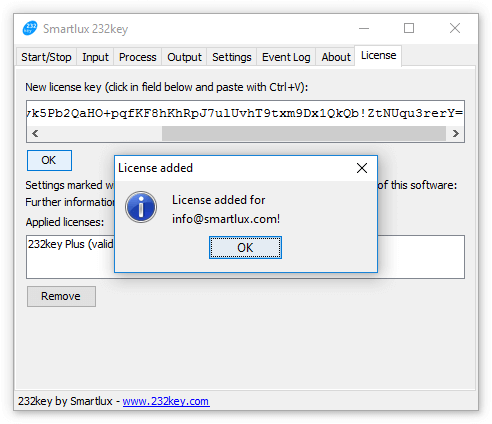 All Plus features described above will be enabled immediately.
Volume licensing
The following volume prices will be applied automatically:
10-19 licenses: 10% discount,
20-49 licenses: 20% discount.
50+ licenses: 30%.
Please contact us to discuss discounts for significantly larger orders.
Moving your license to a different PC
You can easily remove your license by selecting it in the list of applied licenses and clicking on the remove button:
Then, simply enter your original license key on a different PC to activate the Plus features.